Robbie Hunter
Welcome to The Apocalypse, I hope you brought ammo. - Joe Miller
---
PC: Robert J. Hunter, III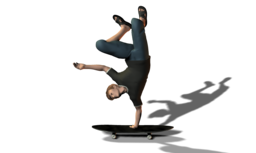 Short Discription: 16 year old rich kid, 5'6", 120 lbs, Blond hair, Blue eyes
Author: Vic
Level: 3
Sex: Male
Class: Male Smart Hero 3
| | | |
| --- | --- | --- |
| Attribute | Score | Bonus |
| Strength | 11 | 0 |
| Dexterity | 15 | 2 |
| Constitution | 12 | 1 |
| Intelligence | 18 | 4 |
| Wisdom | 12 | 2 |
| Charisma | 10 | 0 |
Size: Medium
Height: 5' 6"
Weight: 120 lbs
Eyes: Blue
Hair: Blonde
Skin: Pale
Talents: Savant [Computer Use], Exploit Weakness
Total Hit Points: 16
Speed: 30 feet
Armor Class: 14 = 10 +1 [leather Jacket] + 1 [class] +2 [dexterity] Touch AC: 13 Flat-footed: 12
Initiative modifier: +2 = +2 [dexterity]
Fortitude save: +2 = +1 [base] +1 [constitution]
Reflex save: +3 = +1 [base] +2 [dexterity]
Will save: +4 = 2 [base] +2 [wisdom]
Attack (handheld): +1 = 1 [base] +0 [strength]
Attack (missile): +3 = 1 [base] +2 [dexterity]
Grapple check: +1 = 1 [base] +0 [strength]
Reputation: +1 = 1 [base]
Action points: 17/ (lifetime)
Light load: 38 or less
Medium load: 39-76
Heavy load: 76-115
Lift over head: 115
Lift off ground: 230
Push or drag: 575
Weapons:
Baseball Bat [1d6, crit 20, range inc 10 ft., 3 lb, one-handed, bludgeoning]
Armor:
Leather jacket [light; +1 AC; max dex +8; check penalty 0; 4 lb.]
Starting occupation: Student
Computer Use
Knowledge (Technology)
Repair
Feats: Educated (+2 on two knowledge skills; Streetwise,Technology), Simple Weapons proficiency (free), Gearhead, Vehicle Expert, Light Armor Proficiency
| | | | | | |
| --- | --- | --- | --- | --- | --- |
| Skill Name | Key Ability | Skill Modifier | Ability Modifier | Ranks | Misc. Modifier |
| Balance | Dex* | 2 | +2 | - | - |
| Bluff | Cha | 0 | +0 | - | - |
| Climb | Str* | 0 | +0 | - | - |
| Computer Use | Int | 16 | +4 | 6 | 6 (3,2,1) |
| Concentration | Con | 1 | +1 | - | - |
| Craft (Electronic) | Int | 10 | +4 | +4 | +2 |
| Craft (Structural) | Int | 4 | +4 | +0 | +0 |
| Craft (Visual Art) | Int | 10 | +4 | 6 | - |
| Craft (Writing) | Int | 10 | +4 | 6 | - |
| Diplomacy | Cha | 0 | +0 | - | - |
| Disable Device | Int | 10 | +4 | +6 | - |
| Drive | Dex* | 10 | +2 | +6 | +2 |
| Escape Artist | Dex* | 2 | +2 | - | - |
| Forgery | Int | 8 | +4 | 4 | - |
| Gamble | Wis | 2 | +2 | - | - |
| Gather Information | Cha | 0 | +0 | - | - |
| Hide | Dex* | 2 | +2 | | |
| Intimidate | Cha | 0 | +0 | | |
| Jump | Str* | 0 | +0 | | |
| Knowledge (Popular Culture) | Int | 10 | +4 | +6 | |
| Knowledge (Streetwise) | Int | 12 | +4 | +6 | +2 |
| Knowledge (Technology) | Int | 13 | +4 | +6 | +3 (1,2) |
| Knowledge (Theology) | Int | 10 | +4 | +5 | 1 (Student) |
| Listen | Wis | 2 | +2 | | |
| Move Silently | Dex* | 2 | +2 | | |
| Navigate | Int | 4 | +4 | | |
| Repair | Int | 12 | +4 | +6 | +2 (Gearhead) |
| Research | Int | 10 | +4 | +6 | |
| Ride | Dex | 2 | +2 | | |
| Search | Int | 7 | +4 | +3 | |
| Sense Motive | Wis | 4 | +2 | 2 | |
| Spot | Wis | 7 | +2 | 5 | |
| Survival | Wis | 2 | +2 | | |
| Swim | Str** | 2 | +2 | | |
| Treat Injury | Wis | 2 | +2 | | |
(* check penalty for wearing armor)
Extra feat at first level (already included)
Four extra skill points at first level (already included)
One extra skill point at each additional level (already included)
Class HP rolled:
Level 1: Smart 6(+1)
Level 2: Smart 2(+1)
Level 3: Smart 5(+1)

Bio:
Robbie Hunter is the 16-year old son of two lawyers. His father is a Harris County Assistant District Attorney and his mother is a trial lawyer. They view him more as the trophy son they can dress up an parade about as proof of their commitment to having a family, but that's about as far as their concern for him goes. Robbie resents this, and tends to act out in any manner that will embarrass his parents. Robbie's actions cause some dismay for his parents as his antics could disrupt their image in the eyes of their peers. He has been arrested twice, both times for stealing, though he was in possession of marijuana and under the influence of marijuana during his second arrest.
Robbie has severe contempt for any person he sees as an authority figure. Attempts to order him around are met with endless bitching and somewhat creative name-calling – unless Robbie sees that compliance is in his best interest. He also prefers to be called "Robert" or "Robbie". If one calls him "Bob" or "Bobby", what he really hears is "Please hit me in the face with your skateboard", and tends to act accordingly. His speaking style is best described as "loud and offensive".
Robbie is an avid gamer. The more violent the game, the more he likes it. He can spend hours in front of a game, but can't be bothered to focus on homework for more than 30 seconds.
Robbie is, in short, a bored, angry, and attention-starved little bastard who's in serious need of an ass-kicking.
---
Zompocalypse Wiki Index
- -
The Party
- -
NPC List
- -
Adventure Blog
- -
Gaming Wilki Home